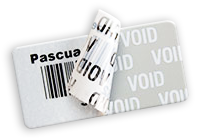 Void Indicating Tags
Discourage theft with our polyester VOID indicating labels. If the label is removed, a special adhesive leaves a VOID mark on the surface of attachment. The label itself gets a VOID imprint, rendering it unusable, eliminating the possibility of reuse. This highly durable label is the top choice for tamper indication and security, and is suitable for indoor and outdoor use.
These labels are highly customizable to fit your specific need. Add desired text, barcode, or serialized tracking number, with the option to add a company logo for increased specialization. Labels are .002" polyester with a premium adhesive which will stay on your asset until attempted removal. Clear polyester overlaminate protects image from moderate abrasion and cleaning.
See also : Security Asset Tags Destructible | Polyester Asset Tags | Aluminum Asset Tags