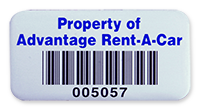 Super Durable Aluminum Asset Tags
These durable asset labels and asset tags are designed to ensure the security of your company's property. With a wide variety of uses, from laboratories to warehouse, the tracking of products, equipment, and other valuable inventory is made simple with these anodized aluminum tags. Any barcode symbology may be used, including linear or two dimensional codes. Asset tags may also be produced with no barcode and with human readable data only.
Our labels are made with Photo-Imaged Anodized Aluminum which provides years of service and exceptional resistance to solvents, chemicals, abrasion, ultraviolet exposure, and extreme heat and cold, making them the perfect solution for even the harshest environments. The label's photographic image is sealed within the anodized surface and will not fade over time. Labels are .003" or .005" thick with premium adhesive backing, made to permanently adhere to metals and plastics. Not only will these labels not fall off or deteriorate over time, this also prevents the intentional removal of labels in instances of theft.
Our aluminum barcode labels are highly customizable to ensure that you get exactly the label that fits your company's need. The most common sizes are 1.5"x.75" and 2.00"x.75" but labels can be produced in virtually any size or shape that you may require.
See also : Security Asset Tags Destructible | Polyester Asset Tags | Security Asset Tags